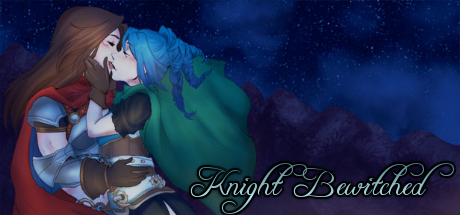 Knight Bewitched
Announcing Knight Bewitched: Enhanced Edition
---
Hello everyone!
This is the official announcement for the Knight Bewitched Enhanced Edition coming mid-late Fall 2021.
A *lot* of stuff is coming...
Here is an incomplete list of changes:
Engine and game info
Knight Bewitched: Enhanced Edition is being ported to the recently released MZ engine. This upgrade is mainly focused on back-end improvements, but it also comes with a new battle animation system and enables many of the UI upgrades and new features

Lighting effects have been removed and replaced with fog/other effects where applicable. You'll still need the Blue Flame to enter the Midnight Desert, though!

8-directional movement was added

Auto-saving was added

Due to the engine upgrade and the massive changelog, old save files will not be compatible with the enhanced edition

The Enhanced Edition is completely free for anyone who already owns Knight Bewitched . The price will remain at $4.99. If crowdfunding succeeds, a comprehensive player's guide and soundtrack will be available as paid DLC

ETA is mid-late fall 2021



UI and menus
Almost every menu in the game has a new and improved layout

Default window resolution was reduced to 1109x624 as the original 1280x720 resolution just caused a lot of empty space



Story and Dialogue
Dialogue and cutscenes have received major writing revisions

Many scenes, such as the Northshire Inn scene, Ruth's first meeting with Gwen, and the throne room scenes have been altered significantly (as in, more than just dialogue touch-ups)

Character backstories and motivations have been improved as a result

Aside from all this, the main storyline will remain mostly the same...mostly

Locations
Every area in the game is being rebuilt from scratch. Some areas will only receive cosmetic changes, while others will be changed or expanded significantly. Here are a few examples:




The entrance to Typhus the Younger's Lair has been expanded slightly, and fog effects/cave ambience were added. Typhus' Lair can also be revisited later in the game as part of a new sidequest

The Underbog has a new section. The swamp areas can no longer be traversed, but a new mechanic was added with switches that can raise/lower the swamp level

Halonia has many cosmetic improvements. Ruth's House is now in its own separate new section of Halonia. A new building was added in Halonia's middle section for Kickstarter backers

Gabenport was completely revised

Morgoth's Cave and the Midnight Desert will be completely different and share little resemblance with their original layouts. The Sealed Tower and Typhus' Castle will also be revised significantly




The World Map is larger and significantly improved from the original. Many small areas, such as Arcanite Ore locations and the secret merchant, were relocated



Stats, skills, equipment and Battle Mechanics
Stat spreads for hero classes and equipment were ported over from Knight Bewitched 2. In brief: Numbers are bigger, equipment upgrades feel better, and everything hits harder

Helmets are out. Chest armor gives higher stat bonuses in their place

Slash, Blunt, and Pierce weapon "elements" were removed

Weapons and armors give smoother and more predictable stat bonuses

About 1/3 of all hero skills were cut. Most of the skills removed were "fluff" i.e. they were useless/rarely used/had the same effect as a different skill/etc. Some new skills were added to each character, and many skills that remain were either made more powerful or given new effects

MP costs were adjusted, mostly higher--but many new spells and items grant MP recovery/MP regeneration

Trinkets only grant 1 skill each. Except for Uno, each character can now equip 2 trinkets

A new "Charm" equipment slot was added. Enemies now drop Essences that are used to craft charms

Enemy mechanics, such as Counter-Attacks, Empowered buffs, and new Fog and Enrage effects were added



New features
An in-game encyclopedia tracks all items, weapons, armors and enemies encountered

A charm-crafting system was added and unlocks after Gwen joins the party:




Enemies drop unique essences that are used alongside other items to craft powerful charms

The player can combo together certain charms, equipment and skills to devastating effect in battle

Some unique potions can also be crafted

More potions and charms are unlocked as the story progresses




Alpha Beasts make their return from Knight Bewitched 2 . Alpha Beasts are rare, much stronger creature variants that'll drop extra cool stuff--if you can defeat them!

Secret Areas: Similar to the secret areas in Celestial Hearts, almost every town and dungeon will have a hidden area that contains gold and powerful items. Keep an eye out!



New content (subject to change)
The quest for Daedalus - Stray's desecrated hometown of Nilheim, where the player can engage on a sidequest to retrieve Stray's family heirloom stolen by the Cult of Drakon

Shipwrecked! - a naval confrontation with a certain Archmage will result in the party stranded on an island where they'll face new enemies and learn more about Uno's past. This'll also lead into an updated cutscene (hopefully with an art illustration) back at the Witch House

Redemption - The very same Archmage mentioned above will have a slightly different character arc toward the later part of the story. Without going into spoilers, endgame events will unfold somewhat differently

Kickstarter Goals
A Kickstarter will be launched in late March-early April to fund the following upgrades:




In-game art illustrations added to the most impactful cutscenes

A mostly-new soundtrack composed by Jazz Stewart

A comprehensive player's guide featuring illustrations, complete map layouts and locations, appendices, etc

The new soundtrack and guide will be free for certain Kickstarter tier backers and available as paid DLC for everyone else




A demo of the Enhanced Edition will be available during the Kickstarter.

Out of all the new stuff, I'm personally most excited about the story and dialogue revisions. When I first started on the update, I was surprised to see just how...rough...the writing was in Knight Bewitched. While the story will still play out the same way, I can't overstate just how much better the dialogue is this time around. I've had a fun time re-writing the characters, and I hope you'll enjoy it too!
I've already made significant progress on the Enhanced Edition, so I'll be setting up the crowdfunding campaign soon and aiming to launch sometime early-mid April. Unlike the Celestial Hearts campaign, I plan on having a physical reward or two this time too!
Suggestions
If you have any feedback or suggestions for things you'd like to see in the Enhanced Edition, you're free to leave a comment here or email me directly at Jkweath@gmail.com.

If you'd like to see frequent updates on the Enhanced Edition, and just more stuff about me in general, you can also follow me on Twitter.

Until next time!